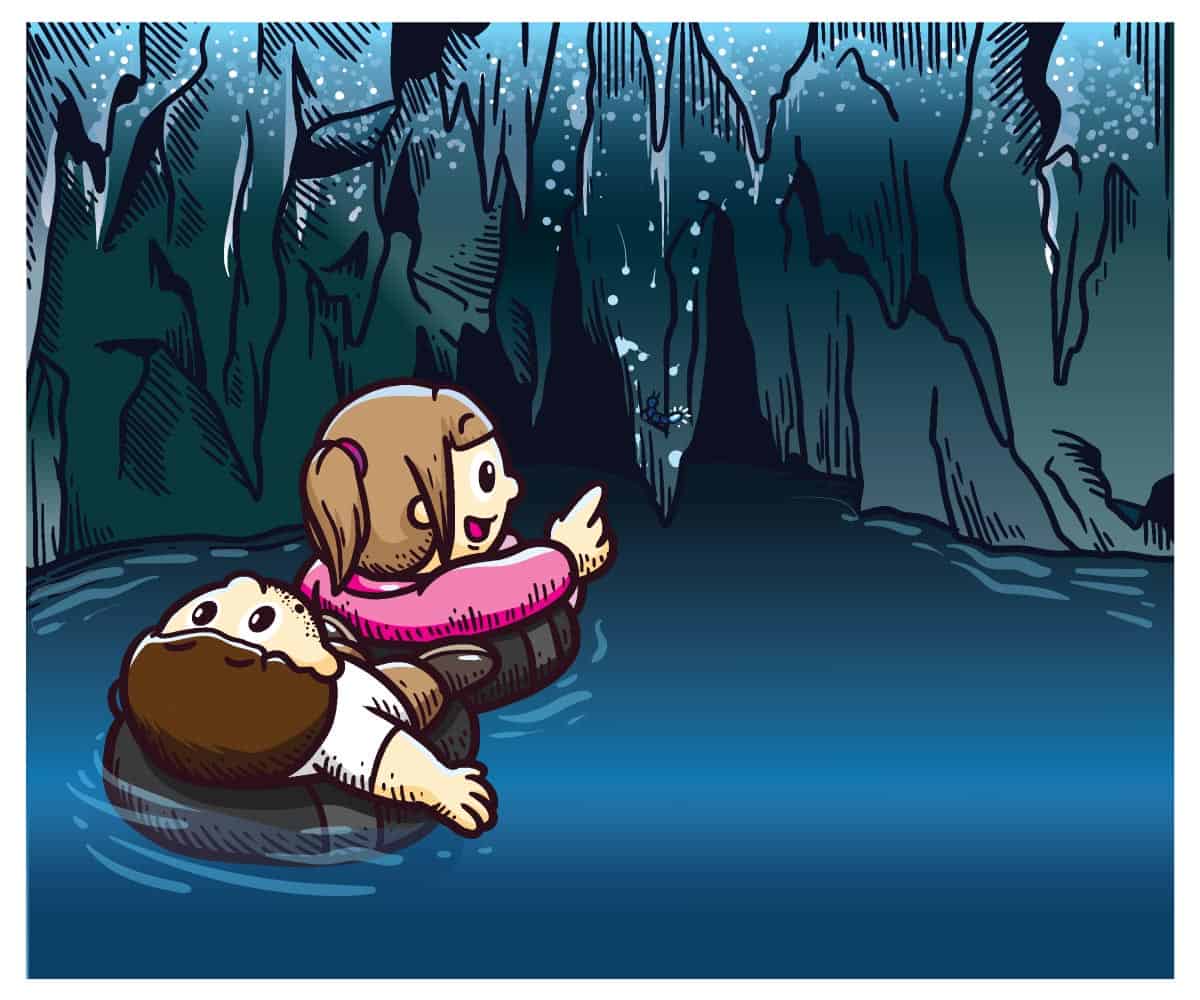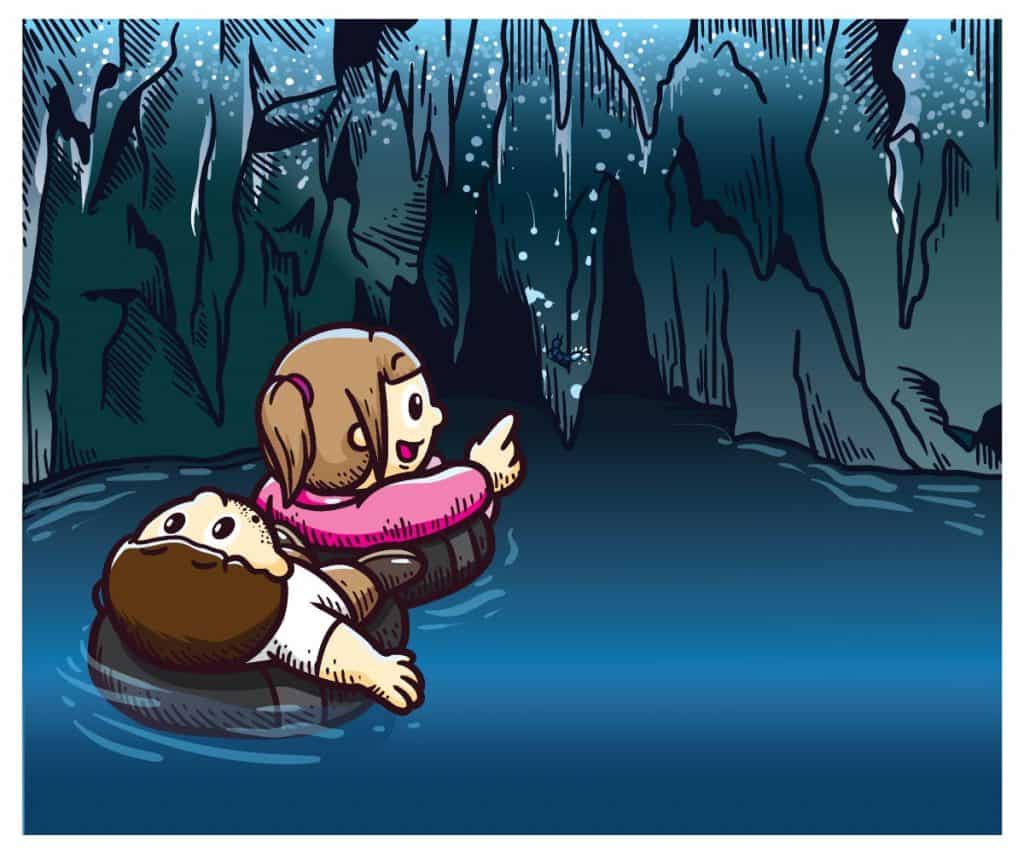 So there we were, on the northern coast of the North Island in Mount Maunganui (close to Tauranga). We were trying to figure out what to do next. For some reason the route up to Coromandel didn't really tempt us that much. So many people and countless online articles had kept saying that Coromandel was one of those places you needed to visit.
To quite honestly, I can't think of anyone ever saying that you shouldn't go somewhere. Half of these articles are marketing articles anyway or have an overly positive view on things. I personally felt that I had read about Cathedral Cove and Coromandel simply didn't really convince me that it was worth the extra mileage. Particularly since it would have been a huge detour and it really sounded like everything Coromandel has to offer was something we'd already experience in and around Abel Tasman.
But what I did know was that I definitely wanted to drive to Waitomo and do one of the Black Water Rafting tours through one of their countless caves in the area. And Tina was also quite keen on seeing the glowworm caves 🙂
What is Black Water Rafting?
So from what I understand they call it Black Water Rafting simply because you're essentially floating through water in all sorts of dark cave systems. It's not really rafting, it's actually much closer to what I would compare to light canyoning, but in the dark and with your own little tube to float on.
The tour takes you on a 2-3 hour journey through one of the many cave systems around Waitomo. You dress us up in a proper wet suit, including a hard hat, headlight and of course your tube. They also do some initial jump training with you because during the cave "expedition" you also encounter various waterfalls of different sizes which you can jump off. It sounds dangerous but the staff is extremely well trained and they make sure that you feel extremely safe during the entire tour.
Speaking of the staff. We had an absolutely hilarious guide from Montreal, Quebec. He'd come to New Zealand only a couple of months ago and had completed an adventure guide training in Queenstown in order to get accredited for these types of tours. He had previous experience from tours in Canada, but this seemed to be a local requirement. Either way, this guy was by far the most entertaining guide I've seen in ages. Half standup comedian, half tour guide. We were his 2nd tour out of 4 for that day. Poor guy…because you could tell that it's tough working with these incredibly heterogeneous and often very introverted groups. It's not always easy to get people to actually SHOW they're excited 😉
Photos courtesy of Ashco & Bush and Beach
But hat's off to him, incredibly professional guy. And all that humor just helped make sure that even the most anxious person felt entirely safe ("I'm only here for the glowworms" was the code-word for someone who did not want to jump at a waterfall). And that was good. Because these caves were very dark, full of potential tripping hazards and the water was just unbelievably cold despite it being roughly 30°C outside at the surface.
So What About the Glowworms?!
Yep, we saw them. It's really hard to describe what it's like when you're floating on a tube through a huge cave with glowworms all over the ceiling. The main section where you see most of the glowworms is basically a huge cavern. You can't really see much else other than the glowworms because the guides turn off all the headlights during this part and simply push the entire group slowly through the huge "hall" without saying a word.
Photos courtesy of Bush and Beach & Lacy Cooke
It's really quite surreal and has a strange peacefulness to it. It's cold, yes. And it's pitch-black, yes. But then there are these fascinating and incredibly bright glowworms. Actually, they're so bright that it's not really pitch black afterall. Quite amazing really.
Unfortunately you can't really take any pictures during the tour because your equipment and the environment doesn't really cater to that. The guides take photos but purchasing the photos is unfortunately prohibitively expensive. That's why I can only share photos from others or from their own website. Some of these have been taken with longer exposure settings, so the glow effect is obviously overstated on these pictures.
Photos courtesy of Luboš Rejmont & Lucy Wang & 2il org
However, it does come very close to the real thing and you really don't feel disappointed at all. Unlike with many other sights (anyway in the world) where reality just doesn't compare to the pictures that are advertised for marketing purposes. Waitomo's caves simply did not disappoint and we thoroughly enjoyed it. It was definitely worth the long right to the other side of the island.
How much time should you plan?
Well that really depends on whether you still want to do other stuff in the area. There are almost 100 different caves in and around Waitomo and you can do all sorts of other activities there as well.
Technically the whole thing can be done as a day trip or with just 1-night stay. We preferred to not stress ourselves since we had loads of time and we actually found a rather nice hostel where we could set up our tent outside for very little money and still use all the facilities. So that's why I've categorised this as a 2-nighter, simply because it's quite far off from many of the normal routes that people take on the North Island.
After Waitomo we decided it was time to head up north to Auckland. Yes…the "big" city that so many Kiwis seem to dread. Auckland actually has a smaller population than Hamburg, so I guess it's all relative. And to be honest, we were craving the big city so much, with all the food choices and buzz…even after 8pm. But we'll tell you all about it later.