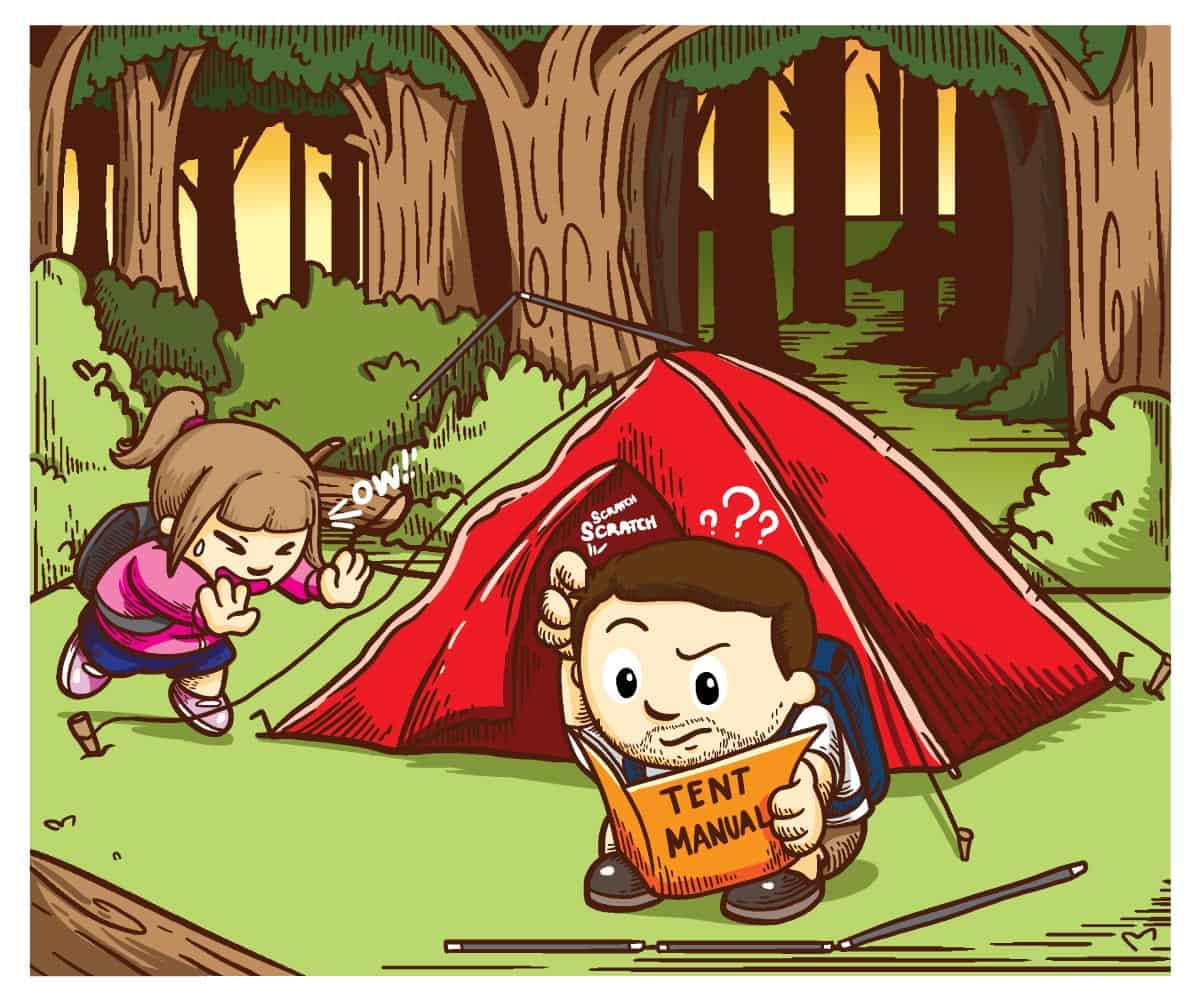 People who know us are aware of the fact that we are not your typical camping people. I mean, we really enjoy seeing natural wonders and New Zealand has a lot on offer here. We also like to do day hikes and walks to little lookouts and we have also done multi-day hikes in the past where we stayed in little huts in the mountains like in Berchtesgaden Nationalpark. But this was all different from a proper camping roadtrip.
So what's it like?
Campsite Options in New Zealand
First you need to know what campsites in New Zealand look like because there is a full range of campsite options.
New Zealand Holiday Parks
You will find the typical Holiday Parks where families spend their summer holiday. Even though I have never been on a proper camping holiday, I would say you are likely to find similar holiday parks in Germany.
These Holiday Parks have a range of different accommodation options on offer. You can choose from non-powered campgrounds which are usually just a lot of green meadow to powered campgrounds which have access to water and power for self-contained campervans and then there often are a range of different cabins. Cabins are like small rooms or huts with a bed, power access, maybe a little fridge and if you are lucky you will also get a table and maybe 2 chairs. Cabins come is different sizes. You will find cabins for couples, small families and large families. Of course these different options vary in price as well.
Non-powered campsites can be found from 25 NZD per person. Fun fact is that you pay per person, so even for a night in your tent you will probably end up with 40 – 50 NZD for 2 people, depending on location and season.
Relative to a non-powered campsite cabins actually do not appear to be that much more expensive. You will find a 2 PAX cabin from 65-85 NZD. So when you travel as a couple you actually often don't really save a lot of money when you choose a tent over a cabin.
Apart from the different accommodation options those holidays parks are equipped with kitchens (you often need to bring your own dishes and cutlery), bathrooms (hot shower usually available) and often even a whole bunch of different activity options (beach volleyball, minigolf etc). Plus these Holiday Parks often also come with a little café and/or shop where you can buy all kinds of stuff you may have forgotten to bring with you.
For example, we stayed in a basic cabin for 2 nights in Tahunanui Beach Holiday Park. That Holiday Park also had a little café where you could get proper coffee and there was a little shop as well. When you end up in these little towns with a population of under 500 people you actually start to appreciate that kind of 'infrastructure' quite a bit 😉 Well, as I said, we are not really die-hard camping people ;P
New Zealand Campsites
Besides Holiday Parks you will find typical campsites in New Zealand (mostly managed by the Department of Conservation) which are usually only a little piece of green meadow and next to it you will usually find a very basic bathroom and a little kitchen with drinking water. These are usually more for just overnight stays for those people who don't have a self-contained campervan and for those who actually prefer a bathroom and a kitchen over freedom camping or your simple carpark around the corner.
New Zealand Huts
And in National Parks you will often find little huts. Which are basically comparable to campsites, maybe a bit smaller. You can stay overnight, you will get access to drinking water and maybe a little kitchen and a toilet. Don't expect to find showers there. These huts are preliminary used by people who do multi-day hikes like the Abel Tasman Coast Track.
Where did we stay so far?
I must admit we are still doing the light version of the camping. We stayed 2 nights in a cabin in Tahunanui Beach Holiday Park, 2 nights in our tent at The Barn Backpackers in Marahau and another night in our tent at a Holiday Park in Wanaka. We've also booked a tent site in Te Anau for when we make a move on Milford Sound this week.
Tahunanui Beach Holiday Park
The reason why we chose the cabin in Tahunanui was because the weather forecasted said that rain was to be expected and we did not want to get completely soaked setting up our tent for our first night in a tent. The weather turned out to be better than expected but still I guess it was a good choice to start the process into camping life slowly 😉
We arrived the first day rather late and were quite tired anyhow after our long trip from Wellington to Nelson. So we only had a quick dinner, watched a last Netflix series (thank goodness Chris bought the huge mobile data package for "work" ;P) and went to sleep early that night.
Next day I did a long beach walk which was supposed to be a loop walk but ended up being a one way and return walk since I did not expected the tide to be that high 🙂 Anyhow, if you end up in Tahunanui Beach, here is my Strava Map for a nice Beach Walk:
After that we decided to walk into Nelson for a coffee which turned out to be quite a walk (we could have known that before – of course we checked Google Maps – but all the traffic was also part of the problem):
We definitely found one of best little cafés in town, enjoyed a little piece of raw raspberry cake, did some grocery shopping and went back by bus. So if you ever end up in Nelson, check out the Kush Café for awesome coffee.
So coming back to our camping experience, I would say a cabin as a place to sleep when you know that you spend the day outside anyhow to discover a little town is really not a bad option. It is relatively cheap, especially when you travel together as a couple and you will find everything you need.
The Barn Backpackers
The next 2 nights we ended up in Marahau which is a little town just right in front the southern entrance to Abel Tasman National Park. So this time we reached the point of no return. Not staying in a tent was not an option otherwise we should have really asked ourselves why we had bought the tent in the first place (even though it was dirt cheap). So we decided to stay in The Barn Backpackers for 2 nights which turned out to be a very nice place with again all facilities you need (hot shower, kitchen with dishes, limited wifi, a nice living room etc). So we set up our tent for the first time (which was easier than expected) and we spent our very first 2 nights in a tent together.
So how is Camping for us so far?
Well, coming back to the fact that we are not really camping people… I think we still aren't 🙂 I mean, let's be honest, it's usually uncomfortable (even though we have a good inflatable mattress which also stays inflated), it is (sometimes) freezing cold at night and you get annoyed by the fact that you pack inside your car where you don't have much space. Call us wimps if you want, but we're just being honest here 😉
So are we enjoying it? Haha, well, I think we enjoy the fact that it gives us A LOT of flexibility and the freedom to decide very spontaneously where to go next. Because we realised one thing: Wherever you go, a non-powered campsite in New Zealand is always available. And so we do appreciate the fact that we can just start our roadtrip in the morning and see where we end up in the afternoon and then quickly check potential Holiday Parks nearby and see what's available.
But we also realized that we need proper days of rest inbetween. And so after 4 nights of "camping" (cabin + tent including an intense day hike) we decided to spend 3 nights in Greymouth in a proper backpacker lodge with a proper bed again.
So overall, yes we do enjoy it (as long as it is only a few days) because after these nights you start to appreciate a proper bed and proper kitchen+bathroom facilities so much more.
And isn't that what the whole trip is about?
Getting out of our routine, out of your comfort zone and starting to get to know yourself even better… 🙂