Ok, so I really don't want to spend too much time on this post. Mainly because there isn't all too much to report and when we arrived in Dunedin, we actually decided to leave again very soon after. You'll understand much better once you read through what happened. So just for the sake of continuity in our itinerary, I've included this very brief report.
Off to Dunedin
After a good night's rest in Te Anau it was time to cross over to the east coast of the New Zealand's South Island. We were craving some form of bigger city where we could stay for at least 2 nights in order to do some laundry and catch up on some work. We knew we'd be skipping the most southern section of the island, but so far no one really had been able to give us a convincing reason to go the extra mile (sorry guys!).
So we more or less raced across to the east. Not only because there was literally nothing (and I really mean NOTHING!) along the way other than tons of sheep and cattle. But also because most of the drive was on endlessly straight highways with very little traffic. It was probably our quickest drive of the entire trip so far but also the most dull one.
When we eventually arrived in Dunedin and were greeted by 4-6 lane highways we rejoiced….finally some civilization!
360° Photosphere of the Random Sheep Herd
So What About Dunedin?
I really hope I don't step on anyone's toes at this point – but let's face it, I will. Dunedin is the 7th largest city in New Zealand and the 2nd largest on the South Island. It prides itself for all it's old Victorian and Edwardian architecture since so many Scottish settlers decided to stay here. Larnach Castle is apparently also quite a site. But just like it's relatively difficult to get me excited with a Buddhist temple nowadays (I've seen too many), I guess it's even more understandable that as a European, it's tremendously difficult to spark my curiosity with a castle.
Sorry, I've just become quite jaded over the years. Ironically, Dunedin is also particularly famous for its flemish-style (!!!) railway station. Apparently this is the most photographed historical building in all of New Zealand.
I'll just leave you with that rather odd fact right there.
Say what you may, but other than a few old Victorian-style buildings built from stone, I really couldn't identify what the supposed appeal of this city was. Yes, a lot of houses looked very similar to what you'll see all over England's more residential areas, but I'm really not sure that's something I'd be particularly proud of.
Again, I know I'll be offending some people here. But case in point, the inside of our hostel reminded me A LOT of the hostels and apartments I'd lived in whilst in London. And they were the absolute worst I had ever seen anywhere on this planet. Bathrooms where mould had been painted over out stinginess or complete utter stupidity. Barely any windows which made the place feel like a dungeon. And just an overall feeling that the substance of the building was completely rotten. Something very common in the Kingdom. A rampant free-market stance on housing and rentals has made it possible over the decades.
It's completely beyond me how this hostel had gotten so many good reviews. If this was one of the best places in town, what on earth did the others look like? I really didn't want to know. Unfortunately we had already booked 2 nights in the place beforehand, so we kind of felt like we needed to stay.
But then things just got worse.
Two Creepy Old Guys in a Hostel
We were having dinner in the window-less kitchen of the hostel. There were two other guys I had already noticed a little earlier. They were constantly hanging around in the kitchen, drinking coffee and brabbling about. I really had no clue what these two characters were doing in a hostel. They were not from New Zealand. They sounded British.
But hey, let's stay open-minded! Afterall, they were talking to our dorm-mate Bettina when we arrived. She later told us that one of then had told her all about how famous he is. Every conversation I overheard with them was about some odd tourism-related legislation. Overall it seemed like they were constantly talking (or mumbling), but never left the building.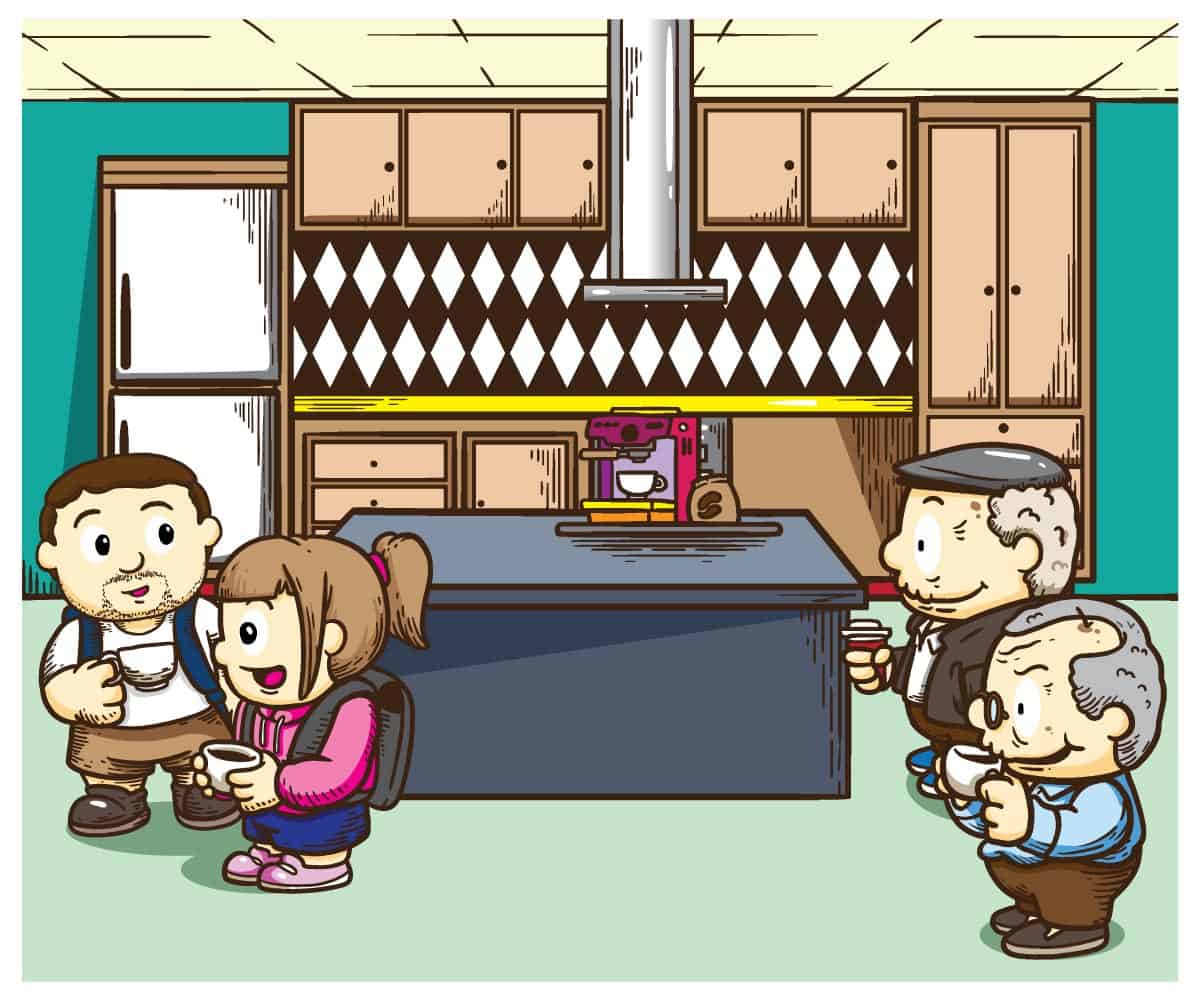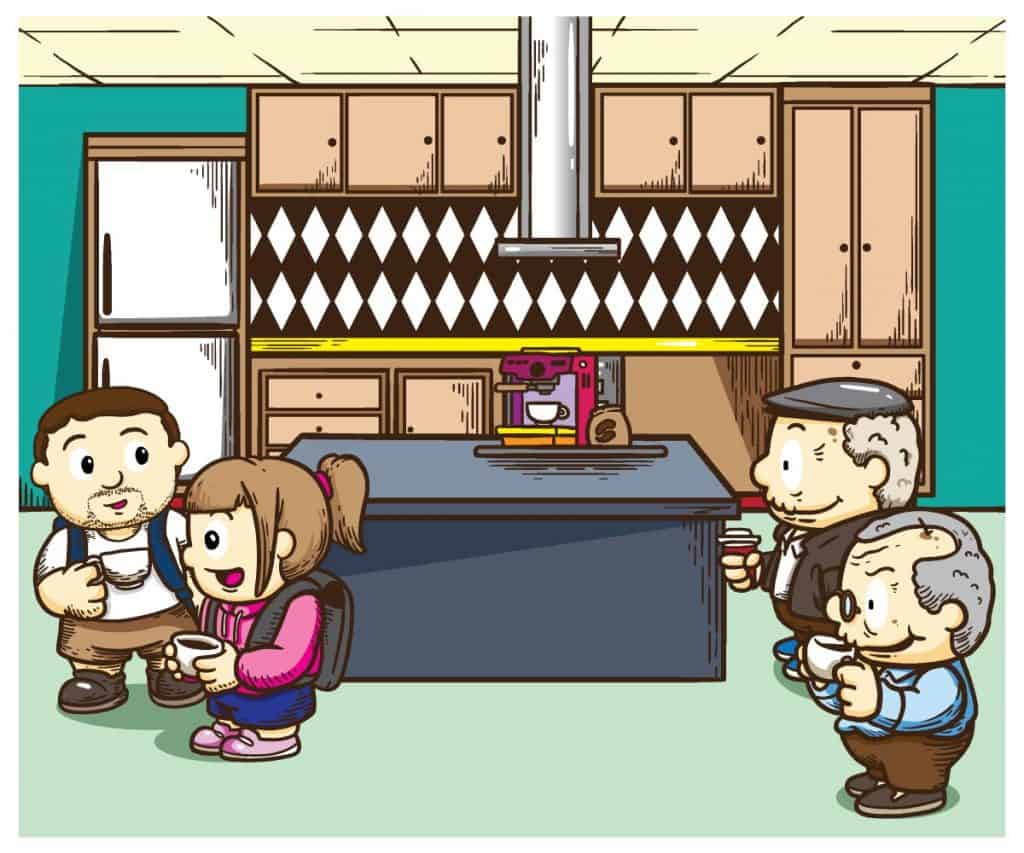 Anyway, back to dinner. We were eating and these guys had sat down next to us. The continued their own little conversation until a young Kiwi student (girl) came in, got something from the kitchen and left again. The one old guy proceeded to give his buddy a weird wink. After she had left the room he mumbled to him that she had given him a look. The smirk on his face sent chills down my back.
Those who know me well know that I'm not too good a keeping my mouth shut in moments like these. Yes, I will pick a fight. Just to make a point. I took the liberty of telling this creep:
"No, she did NOT look at you."
Clearly startled by my statement he nevertheless seemed oddly intrigued and challenged by my statement. His rebuttal:
"Oh really? And what particular qualification puts you in the position to make such a claim?"
I responded: "The fact that I'm sitting right across from you."
He spewed: "Well that's not very convincing. You weren't even looking this way."
We finished dinner, went to our dorm room and made very sure that the girl was aware of what these idiots were mumbling. She cringed in disgust. That moment we decided that we would waive the cost for the second night. There was no way in hell we were staying in this place longer than 1 night.
Still a Good Night Out
Nevertheless, we still had a good night out with Bettina and a few other girls from the hostel. It was good to connect with some people. Especially also people who had already been traveling around the country for some time and whom you could share and discuss some of your own observations with.
But we were also glad to be leaving the next day. Maybe our assessment of Dunedin is tainted and unfairly negative. But hey, what can you do? That was our experience and that's how it's going to remain.
Time to move on to better things.