Imagine you drop dead tomorrow and pictures of you are hung up in a museum with things you have seen and experienced, impressions that you've collected…are you satisfied with what is on display? Or are there still things missing, which you've thought about, but never executed."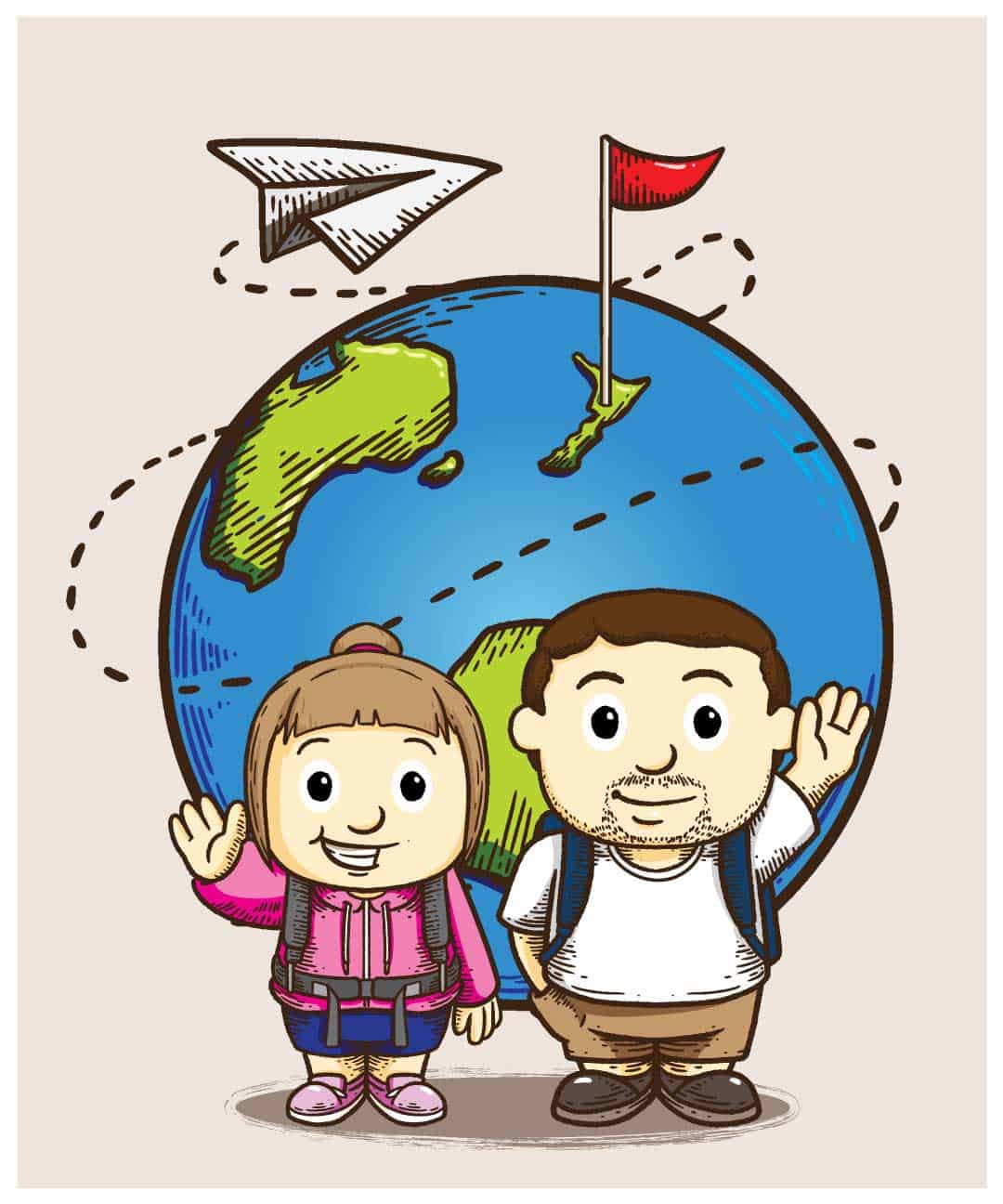 This is an excerpt from the book "Big 5 for Life". One of those 'things', which has been on Christian's and my mind for a long time is a longer journey. Just with a backpack, minimal luggage, far away and for a long time. Getting to see many new places, collecting impressions and afterwards also being able to appreciate all the more what you have back home in grey and rainy – albeit beautiful – Hamburg 😉
This is one of our 'Big 5 for Life'.
And it starts now…
How it all began…
It all started in September 2018. I (Tina) just turned 29. Our friends are roughly the same age. A very typical age to get married nowadays. We had been to five (!) weddings throughout summer and the last weekend in August it was the final wedding of friends in Flensburg before our own wedding a week later.
After a few (or a few more) glasses of wine and bubbly, Chris and myself sat at a table in Flensburg and started a conversation about daily routines. We have a good life in Hamburg: Living in a nice apartment in Hamburg, getting your fresh coffee in the morning, going to the office, interesting and intellectually challenging 'jobs' (Chris runs his own business), enjoying the weekends with friends or working on our own projects, doing nice holidays every year…but still somehow it all began to be and feel the same.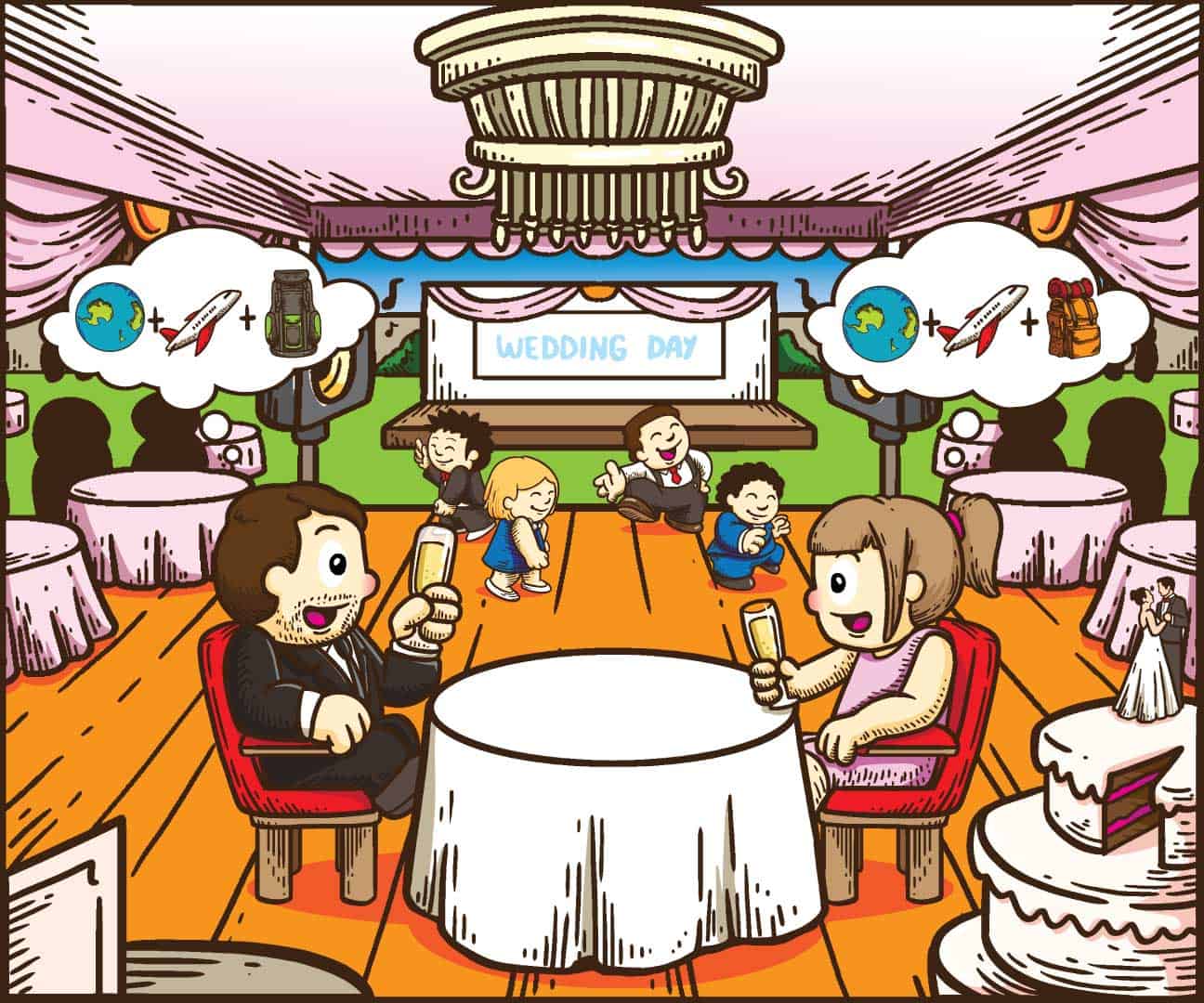 "Festive alcohol sometimes leads to an excess of honesty."

– Random find on Google
Alcohol has the enormous advantage that you start being more honest and so that evening we had a very honest conversation about what we expect from life – and there it was (again) – that dream of travelling around the world.
It was not the first time we discussed this idea. Chris had been collecting Excel lists years before about average accommodation costs per city around the world…for proper budget planning. So many times we had discussed which kinds of gadgets you need and how awesome it must be to travel with only a backpack.
But this time the conversation was more serious (or more honest?). We realised how long we had had that idea in our heads, but somehow had never actually taken any real action. The fact that we got married a week later was maybe another factor: A wedding seemed like another step towards a more routined life. Which is absolutely fine. But did we really want this?
Wedding – what next?
That same night we agreed to take action and to change something. As Chris is self-employed he is a bit more flexible. But leaving for an entire year was also a challenge for him as he had 4 local staff in a co-working office Hamburg at the time.
For me it meant that I need to start a conversation with my line manager about taking a sabbatical. Easier said than done. Telling a company that you want to take 12 months off is a process. It is completely against what everybody expects. I am ambitious and was/am doing a good job (I am sure), so I guess nobody really expected me to ask for something like a sabbatical. And I also did not want to disappoint anybody. It took me some time to recalibrate and remind myself again and again of that night in Flensburg and WHY we wanted to do this in the first place. And so I finally asked and found a good compromise with the company.
"Offering sabbaticals can increase motivation and loyalty of employees."
A few days ago I read an article about sabbaticals and whether or not companies should offer such options. I fully understand that it is hard from a companies perspective to plan with employees who are gone for an extended period certain time but there are two main arguments PRO sabbaticals: motivation and loyalty.
Speaking from experience I can absolutely confirm that 2019 was one of my best years ever. I was highly motivated and achieved more than in any other year and I am pretty sure that this was also driven by the fact that I knew I'd being going on unpaid leave for 12 months at the end of the year. I wanted to show the company how much I appreciate that I was given this opportunity – win win, wouldn't you agree?
The other element is loyalty: Having the opportunity to do this will turn me into an even more loyal employee. I want to come back because I appreciate working for the company. The fact that the company offered me this flexibility and offered me the privilege of realising a personal dream will definitely make me a more loyal employee.
Ready to go (almost)
So here we are, 1 year and 3 months later, a few days before the trip begins.
You may have some questions… don't worry you are not the only one 😛 – so let me clarify a few things upfront:
Top 10 Frequently Asked Questions:
No, we don't have an "Around the World"-Ticket. It simply doesn't make economic sense for us (I will do the math later for you in another blog post)
We start in Wellington, New Zealand.
Our flight leaves on the January 2nd, 2020 at 7pm.
We're flying via Frankfurt and Singapore (unless the flight attendant union decides to expand their strike – PLEASE DON'T!)
We have a rough idea of other countries we want to see or return to but nothing carved in stone (Australia, Bali, India/Taj Mahal and Canada are on the list – rest tbd)
We've sublet out our apartment in Hamburg with all furnishings – there are agencies that help you doing this and yes, we really don't mind other people using our furniture ;P
We will be in Europe in summer due to some weddings of friends.
Yes, we're only travel with a backpack, max 18kg.
Yes, we will write a blog and share pictures on Instagram. If you're here, you've likely seen both.
Yes, we plan to come back 😛
So what next?
Well, I guess we'll finish packing and then off we go… you will hear from us 😉
Stay tuned!